VE-160 Electron Beam Thermal Evaporator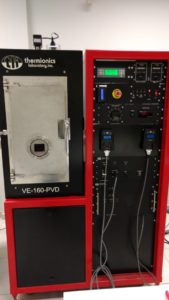 Thermoionics Laboratory, VE-160
Responsible: Prof. André Avelino Pasa
      Physical vapor deposition system (PVD) by electron beam with joule effect thermal deposition module.
In the electron beam evaporation the vapors necessary for the deposition are obtained from the focus of an energetic electron beam in the crucible containing the material to be deposited and heating it until reaching its evaporation point. By thermal evaporation, the materials to be evaporated are placed in conductive crucibles (graphite or tungsten) that are intensely heated by Joule effect until their evaporation.
The system has:
3kW e-beam gun.

Pneumatic shutters.

Rotary sample holder.

Sample holder with heating, up 300°C, Halogen lamps.

Joule effect deposition mode.

Working pressure ~ 1E-8 to 2E-6 torr (turbomolecular pump 600l/s)

Possibility of 3 targets for e-beam and 2 targets to Joule effect.

Quartz cristal for thickness control (0.1 A resolution).
User guide (only avaliable in Portuguese)
Operating schedule